Playing a musical instrument is a uniquely personal experience that allows you to share your individuality with others. No one will ever sound quite like you. Whether you play alone in your room, in a coliseum, in a church or in a punk band, your voice on your instrument is unique.
Our professional instructors will help you find and develop that voice. Here at Moe's Music, we offer instruction on most instruments, including guitar, bass, drums, flute, clarinet, sax, trumpet, trombone, violin, viola, cello, piano and voice offering lessons 6 days a week.
All lessons are usually 30 minute lessons, and the price of our private lessons is as follows:
Beginning Sept 1st, 2019, new students will pay a one time Registration Fee of $30.00.
After that, single lessons cost $32.00*
* the best deal is buying by the month, where the lessons go down to $30.00 per lesson ($120.00 most months).
Please check with each individual instructor on acceptable forms of payment. Most teachers accept credit/debit card, checks or cash. Some accept cash/check only.


Meet Our Instructors:
Steve Jones
Steve found his calling early in life. After graduating from Cox High School in 1990, Steve left the area for the entertainment capitol of the USA, Las Vegas, where he began a two year stint with a rock band. Upon returning to Virginia Beach in 1992, Steve began working and teaching at Moe's Music where he still operates today. Over the past 16 years, Steve has built up a solid reputation as a qualified teacher inspiring hundreds of students in the local community.
Steve has intensely involved himself with a whole gamut of musical styles, including Latin, Pop, Rock, Country, Punk, Blues, Metal and Classical, and studied for seven years with Ralph Copley of the esteemed Virginia Wind Ensemble.
Over the years, Steve Jones has performed in many bands, including touring for 5 years with a KISS tribute band. Currently, Steve is playing around town in an Americana band, and he has just finished writing, recording and producing his 2nd full length CD with his original, progressive rock band.
Steve likes to say, "Teaching comes very naturally to me, maybe because I really enjoy being around kids, I have a lot of patience and they can sense that."
Rich Grado
Rich has been teaching guitar and bass for 27 years, and has been with Moe's Music since 1995. He attended Berklee College of Music in Boston, MA, where he studied guitar and bass performance, harmony, theory and arranging. Through his teaching career, both in Pennsylvania and Virginia, he has taught several thousand students. Many of Rich's students have gone on to attend Berklee college of Music and the Musicians Institute, and some have recieved recording contracts from major record labels, while others have ended up doing recording and session work in L.A., New York and Nashville.
Some of Rich's students have even ended up being guitar or bass instructors themselves.
In addition to doing professional studio work, Rich has worked with a number of bands over the years, including from PA: Bingo's Diesel, Silvership, Stranger, Pinnacle, The Edge, and recording/national tours with Cinema, and The Shreds of Eden.
In Virginia Beach, Rich was a founding member of the popular rock band Element as well as playing with Stonebridge, No Frett, Jet Noise, and Hot Rod Johnny. In his teaching, Rich tailors each lesson to the student's musical area of interest, his or her needs, and musical tastes. Rich takes students of all ages and proficiency levels, and he teaches all musical styles including rock, heavy metal, blues, pop, punk, funk, jazz, and country as well as slide and acoustic styles. The lessons Rich Grado offers are sure to make learning music fun, personal and rewarding.
Larry Emanuel
Larry Emanuel has over 35 years experience with drums and percussion, including teaching, performing and recording studio work. He teaches on drumkit, where he excels at incorporating reading drum music into the personalized lessons he offers. Larry also instructs on hand percussion, including bongos, congas, djembes, and other percussive devices. Larry has been with Moe's Music since 1994, and has been on the faculty at the Governor's School for the Arts.
Larry's education includes studying privately with John Lindberg, principal timpanist with the Vriginia Symphony Orchestra, and also with Jim Barbour, as well as attending the Old Dominion University music program.
Larry has done extensive recording and session work, both locally and including an original score for PBS, as well as music for a NASA video. He also has worked with such recognizable artists as Stephen Bennet and Sting. Other side jobs and recording aside, Larry currently works locally with Jesse Chong and Pete Hansen.

Bill McClure
Bill has been teaching guitar and bass at Moe's since 2002, during which time he has enjoyed the love of his students and earned the respect of his peers. Born in Akron, Ohio, he began playing guitar in 1974. He piddled and plucked around for a long time until, during an extended Indian Ocean cruise (compliments of the US Navy), he decided to buckle down and become a real musician. Bill has enjoyed playing in bar bands all over the world, such as playing with Sundown in Spain, and with Joker in Iceland. In Virginia and North Carolina, Bill has been with several bands, including No Exit, Naked by Noon, Loaded, The Remainders, and Area 3. Currently, Bill enjoys home recording, as well as a project with Chuck Duck and the Decoys, and doing fill in bass work for Russell Lynch and the Southern Drunken Republicans.
Bill's Gear:
Basses – Status Graphite 5-1 Spector ReBop
Guitars – Brian Moore I Mode,l Carlos Hollowbody, Seagull S6+ acoustic, La Patrie
Presentation classical
Amps - Ampeg Bass amps, Eden speakers and Genz Benz speakers
Best Toy – The Boomerang
Teresa Browndorf
Teresa has been teaching music for more than 25 years, and achieved her Bachelor's in Music Education from Duquesne University, and Master of Music degree in instrumental conducting from Catholic University of America.
Ms. Browndorf has 20 years experience in military music as an instrumentalist playing the flute, clarinet and saxophone, and she also worked as an instructor at the Naval School of Music at Little Creek Amphib Base in Virginia teaching music theory, flute and violin. Additionally, she has experience as a military band director.
Teresa has performed with US Marine bands throughout the continental United States, HAWAII, Japan and the Middle East. She has also performed with combined military bands (US and foreign forces), various community/college bands, and the La Jolla Symphony Orchestra.
Teresa's primary instructors have been Bernard Goldberg (flute), Salvatore Silipigni (cello), and Ruth Osgood (violin), all from the Pittsburgh Symphony Orchestra. She has also attended master classes on various instruments from members of the Los Angeles Philharmonic and the Philadelphia Symphonic Orchestra.
In addition to teaching at Moe's Music, Teresa presently teaches instrumental ensemble music at several private schools in Hampton Roads, and she is now an adjunct professor at Old Dominion University, working with their Community Music Academy.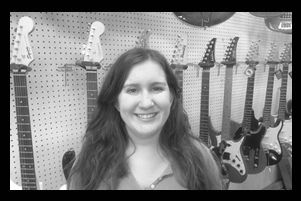 Beth has been teaching music for 8 years, both as a public school music teacher and a private voice and piano instructor. She studied voice (soprano) with Dr. Patricia Lust at Longwood University from 2003-2007, graduating with a Bachelor's of Music in Education degree. Currently she is working toward her Master's of Music Education degree at Old Dominion University and studying voice under Dr. Kelly Montgomery.
Beth began her musical journey early in life, starting with piano lessons and chorus while still in elementary school. In high school, she was a member of the Virginia Children's Chorus for three years and was a featured soloist on several concerts. Beth has experience singing many types of music, including classical, folk, jazz, a cappella, and Broadway. She currently singes with the Virginia Symphony Orchestra Chorus.
Beth believes that all children are naturally musical and can have positive musical experiences that impact their lives, no matter their skill level. Her lessons, both vocal and piano, are structured to be fun and engaging, focusing on musical literacy and technique. Each lesson is tailored to the needs and interests of the student, for their enjoyment and success.
Amanda Sullivan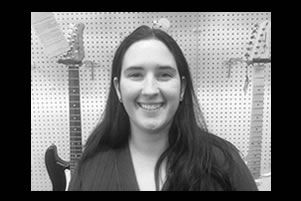 Amanda earned a Bachelor of Science degree in music education from Penn State University in 2009, where she studied saxophone under Dr. David Stambler. Like a lot of woodwind players and instructors, Amanda is also proficient on the clarinet and flute, and she offers instruction on those and other woodwinds as well.
After her graduation, Amanda worked as a substitute teacher in Pennsylvania and in Louisiana while following her husband who is in the US Navy. While she played professionally for 6 years throughout northeast Pennsylvania, Amanda is inserting herself into the Beach music scene, both as a player and as a woodwind instructor at Moe's Music.
Elgin Green
Elgin started playing trumpet in the 5th grade in Michigan, and continued with band and orchestra throughout college at Taylor University in Indiana, although his degree is in physics. After college, he spent 22 years in the U.S.Army as a trumpet player with stints in Oklahoma, Korea, and mostly here in Virginia Beach on the staff of the Navy School of Music at Little Creek Amphibious Base (now JEB).
Elgin has studied with Jerry Franks (Grace College. Mr. Franks did studio work with his friend Doc Severinsen back in the day.), John Moots (Cameron U., Oklahoma), Roy Stevens (The Stevens-Costello Embouchure Technique, NYC), Donald S. Reinhardt (the Pivot System, Philadelphia), Jerome Callet (Superchops, Staten Island, NY), Jeff Smiley (The Balanced Embouchure), and others. These experiences have given Elgin expert insight into the development and correction of brass instrument embouchures. He is also proficient on several other brass and woodwind instruments.
Although Elgin is currently the IT manager at Spectrum Financial just up the street from Moe's Music, he enjoys playing with the Hampton Roads Metro Band, and of course looks forward to teaching his students at Moe's in his spare time.