Moe's Music has been serving the musical needs of players and enthusiasts in the Tidewater area since 1988. We occupy about 3450 square feet in the Pinewood Shoppes on Virginia Beach Boulevard about 7 miles from the oceanfront. Into that space we've squeezed 6 lesson studios that house around 250 students each week, along with a repair facility and tons of instruments and accessories.
We're proud of the brand names we carry, and while we're not a dealer for every brand that's available, we do carry a selection of used instruments and gear so you never know what you might find here.
We encourage you to visit us and discover a music store with a selection of products and services that is different from the other music stores in town. Moe's Music is the oldest guitar store in Virginia Beach, and if you ask around about us, you'll hear good things, so don't forget: "Everyone who knows goes to Moe's."
Thanks for stopping by ~
Mission Statement:
Moe's Music exists to support the lifelong fun of making music on the instrument of your choosing. Our ongoing aim is to provide musical services, education and equipment in a comfortable and honest environment, and to continue to serve as a resource for Virginia Beach, Norfolk, Chesapeake, Suffolk, Hampton, and the greater Tidewater (Hampton Roads) area for information and advice.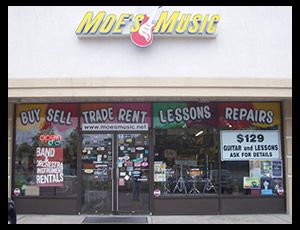 Directions:

From I-264 heading east (towards the oceanfront):
Take the 2nd Lynnhaven Parkway exit (Lynnhaven North), follow the exit as it circles around, going north under I-264. ½ mile later, turn left on Virginia Beach Blvd. Moe's is located another ½ mile on your left in Pinewood Shoppes.
From I-264 heading west (away from the oceanfront):
Take the first Lynnhaven Parkway exit (Lynnhaven
North), go through the light at the end of the exit. Turn left at the next stoplight (Virginia Beach Blvd.). Quickly look to your left, and you'll see Moe's Music, and a u-turn gets you to us.
Go to HalLeonard.com and find books, DVD's and sheet music, order from Moe's and have it in a week. Or,

click on this icon to find, download, print and pay for sheet music from America's largest music publisher, all in the privacy of your home.

Store Hours:
Monday – Wednesday 11:00 am – 7:00 pm, Thursday NOON - 7:00 pm, Friday 11:00 am – 6:00 Saturday 10:00 am – 5:00 pm
For more information call 757-431-8888 or
email
us!
---